Madrid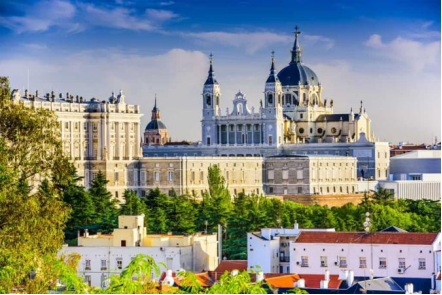 Madrid is the capital and largest city of Spain, as well as the capital of the autonomous community of the same name (Comunidad de Madrid). The population of the city is roughly 3.3 million with a metro area population of almost 6.5 million. Madrid is located just northeast of the geographical center of the Iberian Peninsula, in the middle of the Spanish central Castillian plateau (Meseta central), at an average altitude of 650m. Madrid is best known for its great cultural and artistic heritage, nearly all of the most famous tourist areas are located in the center of the city including Puerta del Sol, Plaza Mayor, Palacio Real, and Plaza de Colón. The major streets in Madrid include the Gran Via, Alcalá Street, and Paseo de la Castellana. Madrid also boasts some of the liveliest nightlife in the world.
Climate
The climate of Madrid is continental; mainly dry and quite extreme at times. Madrid sees perpetual sunshine, a characteristically hot and dry summer, and a fairly cold winter with frequent frosts during the night and the occasional snowfall. Spring and autumn are mild with the most rainfall concentrated in these seasons. Spring and autumn are definitely the best times to visit, especially the months of April, May, June, September and October. There is very little rainfall during summer and also less rainfall during winter. During winter snow occurs sporadically; however, snowfall usually lasts only for a few days, but there is abundant snowfall in the adjacent mountain ranges nearby.
Transportation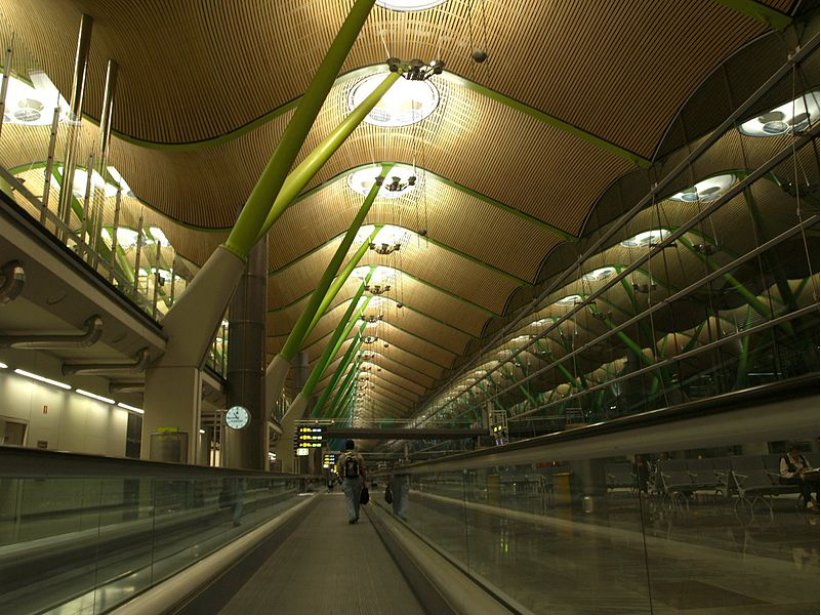 Adolfo Suárez Madrid-Barajas Airport is located 13km from the city center. It is one of the largest airports in Europe and is serviced by many airlines, as well as being the homebase for Iberia Airlines. The airport has 4 terminals. Terminals 1, 2 and 3 are close together and serviced by the same metro station, while Terminal 4 is far from those and has its own metro and commuter train stations.
The best way to move downtown is taking the Metro (line 8 pink, from 06:30 to 01:30, to/from the airport €7.50) to Nuevos Ministerios station from all terminals. It is clean, safe, frequent, fast and inexpensive. Other way of reaching downtown is a 24-hours express bus service[210] that passes all terminals and then goes direct to O'Donell, Cibeles (20 minutes walk or quick metro ride to Puerta del Sol) and Atocha (main train station, not serviced between 11:30 PM and 6 AM). 5 euros, paid in cash to the bus driver. Departures every 12 minutes (daytime) to 35 minutes (late at night). Travel time Terminal 4 (end of line) - Cibeles 30-40 minutes.
Public bus nr. 200 operates between the airport and Avenida de América bus station in Madrid. It is only 1.50€ and you can use your weekly ticket or 10-trips ticket. Bus 114 does NOT go to the airport terminals and is a 40-minute walk to Terminal 1. Public night bus N4 goes from Plaza Cibeles to Barajas district, 400m walk from the terminal through a passageway over the highway. Best to get off at the second-last stop, Avenida General, and then make a right turn immediately after the bus stop. Go straight on, keep going straight crossing the parking lot, and then you make a left to cross another huge parking lot. After that you see the road and the pedestrian highway overpass. Only 1.50 Euros or the 10-trip ticket is valid as well.
From the Airport it is also possible to take a taxi. Journeys between the airport and the inner M30 area (city center), or vice versa, including those reserved electronically, are subject to a flat rate of 30€
Electricity
220/230V, 50Hz. Round two-pin plugs are used. North American visitors require a transformer and British visitors an adaptor. Some hotels provide these adapters. Otherwise, you can buy them from the airport or large electric venues. The following plugs are used:.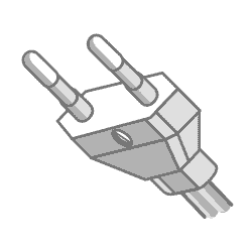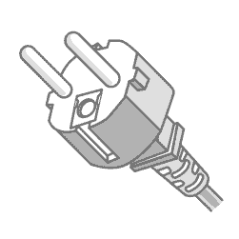 Visa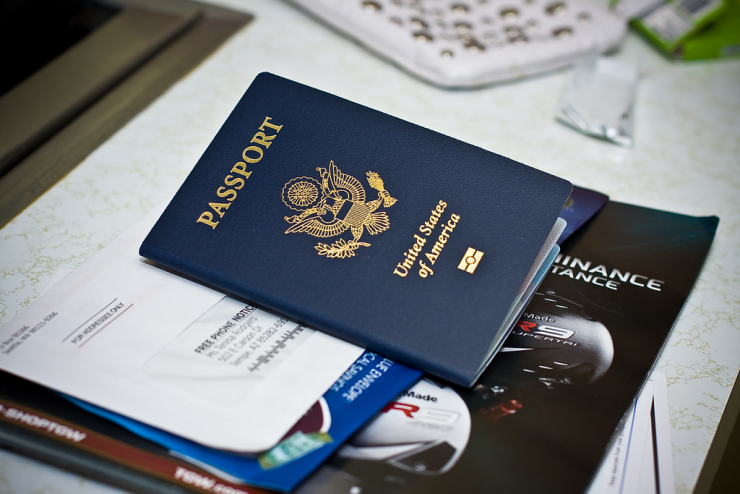 Spain is a member of the Schengen Agreement. There are no border controls between countries that have signed and implemented this treaty - the European Union (except Bulgaria, Croatia, Cyprus, Ireland, Romania and the United Kingdom), Iceland, Liechtenstein, Norway and Switzerland. Likewise, a visa granted for any Schengen member is valid in all other countries that have signed and implemented the treaty. But be careful: there are six more EU members, that have not joined Schengen zone: Ireland and United Kingdom-that still maintain opt-outs and Romania, Bulgaria, Croatia, and Cyprus-that are required to and are seeking to join soon, so you may have to clear immigration but not customs (traveling within the EU but to/from a non-Schengen country).
You can check the website (https://www.schengenvisainfo.com/spain-visa/) to get more detailed requirements for a Spain visa application.
Currency (euro (€))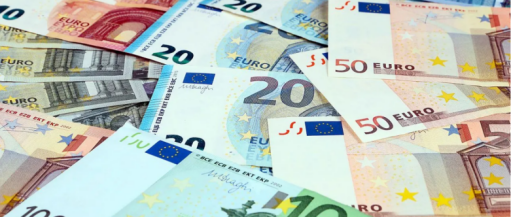 Spain is a part of the European Union and Spanish money currency is Euro.
It is important to always have some cash money in Spain. Although many hotels, restaurants and tourist shops in Greece accept credit cards, you might encounter few studios or small shops in less-touristic islands that ask for cash. You can use your cash cards or credit card on all ATM machines in Spain.
The euro banknotes come in: 500, 200, 100, 50, 20, 10, 5.
There are coins of 2 and 1 Euros and 50, 20, 10, 5, 2 and 1 cents of euro.