Important Dates
Submission Deadline(Full paper)

March 31

, 2018


Submission Deadline(Abstract)

March 25

, 2018

Author notification

within 2 weeks

Final version

April 20, 2018

Registration

April 20, 2018

Main conference

Oct. 26-28,

2018
Committee Members
| | |
| --- | --- |
| | |
| Prof. Hj. Ramli Nazir | Prof. Yuri Yevdokimov |
| | |
| Dr. Mahmoud Meribout | Prof. Khaled Abbas |
ICSTTE 2017 Best Reviewers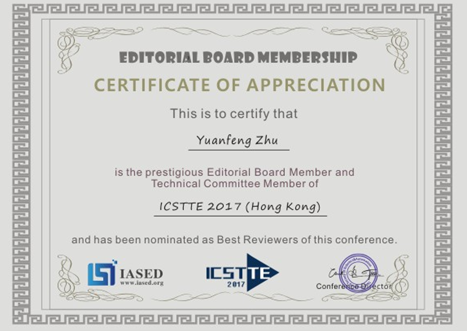 Yuanfeng Zhu, BorderX Lab Inc, Silicon Valley, California, USA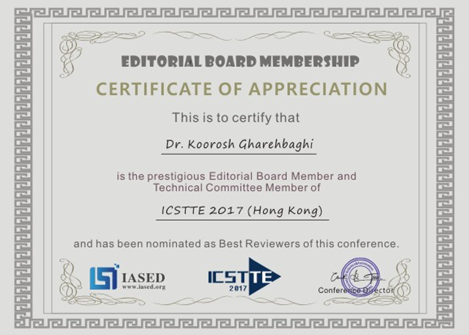 Dr. Koorosh Gharehbaghi,RMIT University, Australia
Committee
Advisory Committee:
Prof. Gang-Len Chang,University of Maryland, USA
Prof. Dr. Khaled Abbas, Expert in Public Transport - CEO Office - Public Transport Agency - Roads and Transport Authority - Dubai - UAE
Conference Committee:
Prof. WANG Jin, Liverpool John Moores University, UK
Prof. Qiang Meng, National University of Singapore, Singapore
Prof. Akinori Morimoto, Waseda University, JAPAN
Program Committee

Prof. Mauro Dell'Orco, Technical University of Bari, Italy
Prof. Hiroshi WAKABAYASHI, Meijo University, Japan
Prof. Dr. Osman ADIGUZEL, Firat University, Turkey
Dr. Pooneh Maghoul,University of Manitoba, Canada
Prof. Dr. Yetis Sazi MURAT, Pamukkale Üniversitesi, Turkey
Dr. Kong Fah TEE, University of Greenwich , UK
Dr. Nicola Epicoco, Politecnico Di Bari, Italy
Technical Committee:

Prof. Abdelbaki Elbelrhiti Elalaoui, Université Moulay Ismaïl, Maroc
Dr. Koorosh Gharehbaghi, RMIT University, Australia
Dr. Luis Amador, Concordia University, Canada
Prof. Ir. Dr. Hj. Ramli Nazir, Universiti Teknologi Malaysia, Malaysia
Dr. Mahmoud Meribout, Petroleum Institute (PI) in Abu Dhabi, UAE
Dr. Thiago Reis Pedroso Munhoz Rúbio, University of Porto, Portugal
Prof. Yuri V. Yevdokimov, University of New Brunswick, Canada
Yuanfeng Zhu, BorderX Lab Inc, Silicon Valley, California, USA
Prof. Chu Jian, Nanyang Technological University, Singapore
Dr.. Olga Pilipczuk, University of Szczecin, Poland
Dr. Krzysztof WITKOWSKI, University of Zielona Gora, Poland
Dr.Muralidhar Kurni, Anantha Lakshmi Institute of Technology and Sciences, India
Dr Emel Aktas, Cranfield University, UK
Dr. Ke Han, Imperial College London, UK
Dr. Pınar TERZİOĞLU, Mugla Sıtkı Kocman University, Turkey
Dr. Neila Bhouri, Univers. Paris-Est, France
Dr.Jorge Freire de Sousa, Universidade do Porto, Portugal
Prof. Giulio Erberto Cantarella, University of Salerno, Italy
Dr. Arjon Turnip, Indonesian Institute of Scienes, Indonesia
Dr. Mirza Ghouse Baig, King Fahd University of Petroleum and Minerals Dhahran, Saudi Arabia
Prof. (Dr.) Hamid Ali Abed Al-asadi, Basra University, Iraq
More Experts will join us..