Important Dates
Submission Deadline(Full paper)

March 31

, 2018


Submission Deadline(Abstract)

March 25

, 2018

Author notification

within 2 weeks

Final version

April 20, 2018

Registration

April 20, 2018

Main conference

Oct. 26-28,

2018
Committee Members
| | |
| --- | --- |
| | |
| Prof. Hj. Ramli Nazir | Prof. Yuri Yevdokimov |
| | |
| Dr. Mahmoud Meribout | Prof. Khaled Abbas |
ICSTTE 2017 Best Reviewers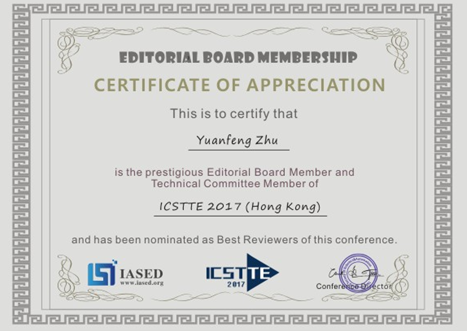 Yuanfeng Zhu, BorderX Lab Inc, Silicon Valley, California, USA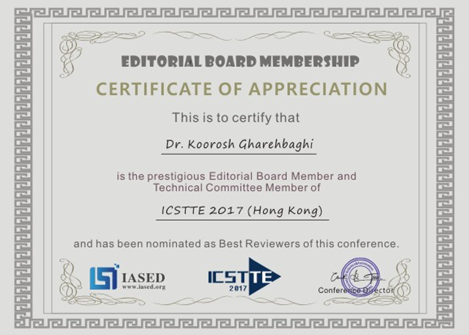 Dr. Koorosh Gharehbaghi,RMIT University, Australia
Venue
Seoul (/soʊl/; 서울; Korean: [sʌ.ul], officially the Seoul Special Metropolitan City – is the capital and largest metropolis of the Republic of Korea (commonly known as South Korea).As the 4th most economically powerful city in the world, measured by GDP,seoul is one of Asia's major centers of culture, entertainment, and research, with additional strengths in the arts, commerce, education, finance, media, services, and tourism. Seoul forms the heart of the Seoul Capital Area, the 5th most populous in theworld, which is also one of the most populous urban agglomerations and includes the surrounding Incheon metropolis and Gyeonggi province, altogether home to roughly half of the country's population.


20 great things to do in Seoul
1. Try the quintessential Korean tipple
Makgeolli is a traditional Korean drink, made from processed rice and other grains, and usually boasting an alcoholic content of five to seven per cent. Many claim it has special medicinal properties. It's a refreshing drink and easy to quaff, or to imbibe in quantity: watch out, though, as makgeolli has a habit of making those consuming too much drunk very suddenly indeed. It's also a little tricky to open a bottle: rice sediment settles at the bottom, so the bottle will have to be shaken, but since the drink is still in the latter stages of fermentation, it'll fizz like milky champagne. Chin Chin is one of Seoul's first upscale makgeolli bars, and still one of the best, doling out milky concoctions from around the country – the Horangi ('Tiger') brand is particularly delicious, though quite expensive at ₩25,000 per bottle. Elegant vases of more regular makgeolli cost around ₩10,000, but whatever you choose, also be sure to grab some of the excellent food too. Chin Chin, Seogyodong 343-9; 334-1476. Open 11.30pm-1am daily. Transport: Hongik University station, line 2, exit 9.
2. NANTA
With performances in two dedicated theatres in Seoul, NANTA is one of Korea's biggest theatrical successes. Be prepared to have balls hurled your way, dodge carrot shavings and cabbage chunks, and possibly be hauled on to the stage to participate. Tickets From ₩30,000. UNESCO Building, Myeongdong 2-ga 50-14 & Jeong Dong Art Hall, Jeongdong; 739-8288, nanta.i-pmc.co.kr. Transport: Euljiro 1-ga station, line 2, exit 6.
3. Chook out some art
Be sure to set aside time to tour the Seoul Museum of Chicken Art. Yes, you read the name right – chicken art. In case you didn't know that chickens could be seen in an artistic way, this museum aims to prove just that. The private collection reveals different portrayals of the humble chicken through culture and art. Start with the permanent exhibit on the first floor, then explore the special exhibitions on the second floor. The museum is one of the main attractions in Bukchon Hanok Village – give it a good hour. Open 10am-5pm, closed Mon. Admission ₩3,000. Gahoedong 12; 763-9995. Transport: Anguk station, line 3, exit 2.
4. Get suited and booted
The cosmopolitan district of Itaewon has long been the best place to go hunting for a new jacket; walking down the main road between Itaewon and Noksapyeong stations, foreign men are bound to be invited into at least two or three shops for a measuring. The best shops have customer bases that negate the need for such forms of marketing; the following establishments are particularly recommended.
In business since 1976, Hamilton Shirts (Hannamdong 736-9, 798-5693) is hugely popular with those looking for tailored shirts. Samples of cotton and silk are present in their hundreds, making the shop's western wall look like a rainbow. Prices start at an incredible ₩35,000 per shirt and, since your measurements will be kept on file, you'll be able to order more from abroad. A little higher in quality than Hamilton, Hahn's Custom Tailoring (Itaewonno 134, 797-0830) also makes excellent shirts, though they actually specialise in suits, employing only the most experienced tailors for this purpose. The materials used are first-rate and the service superb.
5. Hit the market
The numbers are staggering. The sprawling market area known as Dongdaemun has no fewer than 20 shopping malls, and more than 30,000 individual shops. It's also a place of residence, manufacture, transport and much more.
The action takes place over a number of city blocks, both indoors and out. It's a bewildering place, even for those who have been here before, but there is method to the apparent madness. It runs east to west along the man-made Cheonggyecheon stream, whose northern bank is edged with a subsection known as Gwangjang Market. Though a fairly run-of-the-mill section of covered market by day, it comes alive at night when two intersecting alleys burst open to feed the local masses – the atmosphere can be quite intoxicating. Crossing back over Cheonggyecheon, it will become evident that its southern bank is lined with a snake-like run of indoor markets; these have several levels filled with cheap clothing, though they're mostly aimed at an older crowd.
Youngsters tend to head to Heunginmunno, a busy road that functions as the market area's north–south spine. The west side of the road is a near- continuous run of skyscraper malls: Doosan Tower ('Doota' to its friends) is the tallest, but Migliore, Cerestar and Hello APM are equally busy. Knock-off brand-name goods are a speciality both in and around these buildings. On the other side of the road is the latest Dongdaemun accessory: the Dongdaemun Design Plaza, a futuristic complex designed by Zaha Hadid, and a pretty good indicator of Seoul's architectural intentions.
6. Celebrate queer Korea
The Korean Queer Culture Festival takes place in early June around Jongno-gu and the Cheonggyecheon Stream. Alternative lifestyle choices are generally kept under wraps in a culture that can mercilessly punish the slightest infraction against its norms, but at least for a day pride shines with rainbows, face paint, queer film screenings and a parade. Be considerate of camera-shy participants (and somewhat paranoid staff) and leave your camera at home.
7. See the digital D'Light
This showroom is located inside the headquarters of Samsung Electronics, the most international arm of Korea's largest company. It's stuffed full of televisions, mobile phones and other electronic gadgets from Samsung's past, present and future. You'll be able to check your own laptop's content on gigantic screens, play online games from your mobile phone, and make use of whatever developments their boffins have come up with in the last year or so. D'Light, Open 10am-7pm Mon- Sat. Admission free. Seochodong 3020-10 (2255-2262). Transport: Gangnam station (line 2), exit 4.

8. Get fishy
If you're ready for a look at Korea's earthier side, this is the place to go. A pungent wave of raw fish heralds your arrival at Noryangjin fish market, 6,000 square metres of floor space given over to edible wonders of the deep. Start with the wholesalers auctioning off their catches during the early hours of the morning, then follow the sellers to their shops – each one a hive of activity. The atmosphere is convivial: there's no hard sell, no pressure to buy, and haggling is part of the game. Meander around for long enough and you'll eventually want to buy some fish or king crab and head up to a nearby restaurant, where it will either be cooked or sliced and served up raw. It may sometimes feel like a reality show gone weird, but fortune does indeed favour the brave at Noryangjin – where else will you be able to say you've tried sea cucumber? Transport: Seonyudo station (line 9), Yeongdeungpo station (line 1), Singil station (lines 1 & 5).
9. Visit the world's biggest theme park
Lotte World is a colossal theme park – in fact, the largest indoor theme park in the world. There's also an outdoor section: Magic Island, connected to the indoor area by monorail. It's also possible to go ice-skating or bowling in other parts of the complex. Open 9.30am- 10pm Mon-Thur; 9.30am-11pm Fri-Sun. Admission ₩26,000 excl facilities & rides; discounts available for children & after 4pm. Jamsildong 40-1 (411-2000). Transport: Samseong station (line 2), exit 4.
10. Spice up your life
The name says it all – The Kimchi Field Museum specialises in anything and everything to do with Korea's spicy national side dish. Most entertaining are the hands-on sessions, in which you get to learn how to make the stuff yourself. Open 10am-6pm Tue-Sun. Admission ₩3,000. Samseongdong 159 (6002-6456). Transport: Samseong station (line 2), exit 5.
11. Get down at the silent disco
It's ironic that Seoul's most rambunctious quarter has also found fame for silence and darkness. Held every few weekends, the Silent Disco sees a troupe of fun-lovers don headphones in Norita Park, then have a silent-to-others walking party around the Hongdae streets. Only the first 300 to arrive get headphones. Then there's Dialogue in the Dark, which takes place on the ninth floor of the Vertigo building in Sinchon; for ₩30,000 you get to perform various activities in total darkness for an hour or so.
12. Step back in time
Though beloved by locals today, the area could have looked quite different had other plans come to fruition: in the 1960s, as with more or less everywhere else in what was then a city with new-found affluence and a booming population, Bukchon was slated for renovation. However, protests from locals (and the nearby location of the presidential home) persuaded the government to spare the area, which has been left distinctly low-rise as skyscrapers have sprouted to the south. End result: one of the most visually pleasing places in Seoul, its winding, hilly lanes a reminder of past times. Transport: Anguk subway (line 3).
13. While away a rainy day
Seoul's main historical museum is very large, very interesting, and one of the city's best places in which to while away a rainy day. The permanent exhibits chart each segment of the city's fascinating past, from the Stone Age to present times. A more recent creation is the large floor map of Seoul, which children find particularly riveting. These permanent exhibitions have free entry, but some wings of the museum host temporary exhibitions of art or photography – this is almost always work of extremely high quality, so it's worth giving the museum's website a look to see what's going on. Also on the complex is Kongdu Iyagi, a restaurant serving delectable neo-Korean food. Seoul Museum of History. Open 9am-9pm Mon-Fri; 9am-7pm Sat, Sun. Admission free (ticket required from reception); ₩700 for most temporary exhibitions. Saemunangil 50 (724-0194). Transport: Gwanghwamun station (line 5), exit 7.
14. Pay a royal visit
The 'Palace Greatly Blessed by Heaven', as its name (Gyeongbokgung) means, has the longest and most storied history of any Korean palace, with a story that starts in 1395, three years after the beginning of Joseon Dynasty rule. Later kings of the Joseon Dynasty continued to expand the palace, but much of it was destroyed during a slave rebellion in 1592. Fast-forward to 1867, when the palace buildings were reconstructed. The new structures, over 330 in all, made up a massive complex with 5,792 rooms, taking up 4,414,000 square feet (410,000 square metres) of land. Today, about 40per cent of Gyeongbokgung's original buildings exist. The absence of those that are no more have made some room for walking – and the massive crowds. This is the most-visited place in all Korea by foreign tourists, and locals love it as well, even more so since the unveiling of the reconstructed front gate, Gwanghwamun, in 2010. Gyeongbokgung Royal Palace. Open Mar- Oct 9am-6pm Mon, Wed-Sun. Nov-Feb 9am-5pm Mon, Wed-Sun. English-language guided tours 11am, 1.30pm, 3.30pm. Admission ₩3,000. Sejongno 1-1 (3700-3900). Transport: Gyeongbokgung station (line 3), exit 5.
15. Dabble in the arts
The Gahoe Museum holds over 1,500 traditional Korean art and craft pieces, including hundreds of time-worn paintings and amulets, as well as beautiful folding screens, shown in two exhibition halls. The primary focuses are on beauty, religion and a humble lifestyle. Don't forget to try a complimentary cup of green tea, made from leaves grown in the south-western province of Jeollanam-do. Open 10am-6pm Tue-Sun. Admission ₩3,000. Gahoedong 11-103 (741-0466). Transport: Anguk station (line 3), exit 2.
16. Have a head for heights
Picture a sort of miniature Dubai, built on reclaimed tidal flats. This is Songdo International City, part of Incheon's Free Economic Zone (FEZ), and a $40 billion private effort to create an international business hub. Located just 35 kilometres west of Seoul, and designed to accommodate 250,000 residents with residential, retail, office and cultural space, the masterplan for this 'insta-city' has features similar – at least in theory – to the boulevards of Paris, New York's Central Park and Venice's canals. Incheon's city of the future can already claim South Korea's tallest building the 305-metre (1,000 foot) Northeast Asia Trade Tower), one of the world's longest bridges and the technological sophistication of a 'ubiquitous city' – all major information systems share data across an integrated network. Although the 2008 global recession took its toll, the world's largest and most expensive private real estate development wrapped up phase one in 2009, with final completion set for 2020.
17. Rock up
Until 2009, the Incheon-based Pentaport Rock Festival reigned supreme on the Korean rockers' calendar. But some of the organisers split off after a disagreement and started a second, simultaneous event – the Jisan Valley Rock Festival. Since both festivals take place around the same time as Japan's Fuji Rock Festival, they've been able to draw big acts already on tour in Asia such as Belle & Sebastian, Pet Shop Boys and Oasis. Jisan Valley Rock, Jisan Valley San Haewolli 28-1, Majang-myeon, Icheon City, Gyeonggi Province. Pentaport near Dream Park, Incheon. Late July.
18. Visit 'the scariest place on earth'
A four-kilometre-wide strip of land runs clean across the Korean peninsula from east to west, dividing the communist North and democratic south. It's known in English as the Demilitarized Zone or DMZ, though this is something of a misnomer – it is by far the most heavily fortified border on the planet, a fact that led to its memorable description by Bill Clinton as the 'scariest place on earth'. Yet, despite this, and despite its distance from Seoul (doable in a day trip), it's also one of the country's most popular tourist draws.
So, what's to see? Though various sights and lookout points can be reached by public transport, the most interesting sights are only accessible on a guided tour. Precise itineraries vary, but most hit the same spots: an observatory looking out over North Korea, a trip to one of the tunnels beneath the border apparently dug by North Korean infiltrators, and the famed Joint Security Area in Panmunjeom.
Certain parts of the DMZ can be reached on public transport, but for the full experience you'll have to take a tour. The USO (724-7781) offers excellent tours guided by American infantry for $70, though you'll have to book at least four days in advance. Whichever company you choose, make sure the tour heads to the Joint Security Area, which is by far the most interesting DMZ sight; expect to pay around ₩75,000.
19. See things in 4D
Although they've been shown in American theme parks in the past, Korea was the first country in the world to screen '4D' films at cinemas. Sensual stimulation is added to the regular three dimensions – at appropriate points in the film, your seat will bank, rise or buzz; small jets of air hit the back of your head; and scents will drop from the ceiling. The CGV cinemas in Yongsan (6F l'Park, Hangangno 40-999, 2012-3000) and Yeongdeungpo (Yeongdeungpodong 441-10, 1544-1122, 1544-1122) are equipped for 4D, and more are set to follow.
20. Do the jimjilbang thang
There are few more enjoyable places in which to get a grip on contemporary Korea than the jimjilbang. A curious mix of sauna, spa and entertainment facility – and also doubling up as the country's cheapest form of accommodation – these are unique.
First, put your shoes into a locker, and pay the entry fee: typically around ₩5,000 for the pools and sauna rooms alone, or ₩8,000 if you want to use other facilities or stay the night. Those choosing the latter course of action will be given a T-shirt and a pair of shorts, for use later. Then it's into the changing rooms, which are segregated by gender; here you lock all clothing away, and wander naked into the pool area. After showering, you're free to take your pick of sauna rooms, steam rooms and a variety of pools – some ice-cold, some turned green from gigantic teabags.
Those who venture into a jimjilbang will have to follow a few rules of etiquette. First, it's essential to wash thoroughly before entering the water – the showers are easy to spot, and all have bars of soap. You'll get extra points for using the abrasive scrubbing flannels, usually located by the door on the way from the changing rooms to the showers. The second major point to note regards entry into the water – diving into the pool is a big no-no. Follow the Korean lead and in no time at all, you'll be relaxing in the most local way possible. There are jimjilbang all over Seoul, and facilities are fairly standard across the board; any local will point you to your nearest one. The most notable facility in town is the gigantic Dragon Hill (792-0001), just outside the main entrance of Yongsan train station.